I've always dreamed about crafting a loft house in which my kids can sleep and play. Now, I finally found some time and (lots of) ideas to work on a wooden playhouse. Just in time, I finished this project two days before Christmas Eve 2014.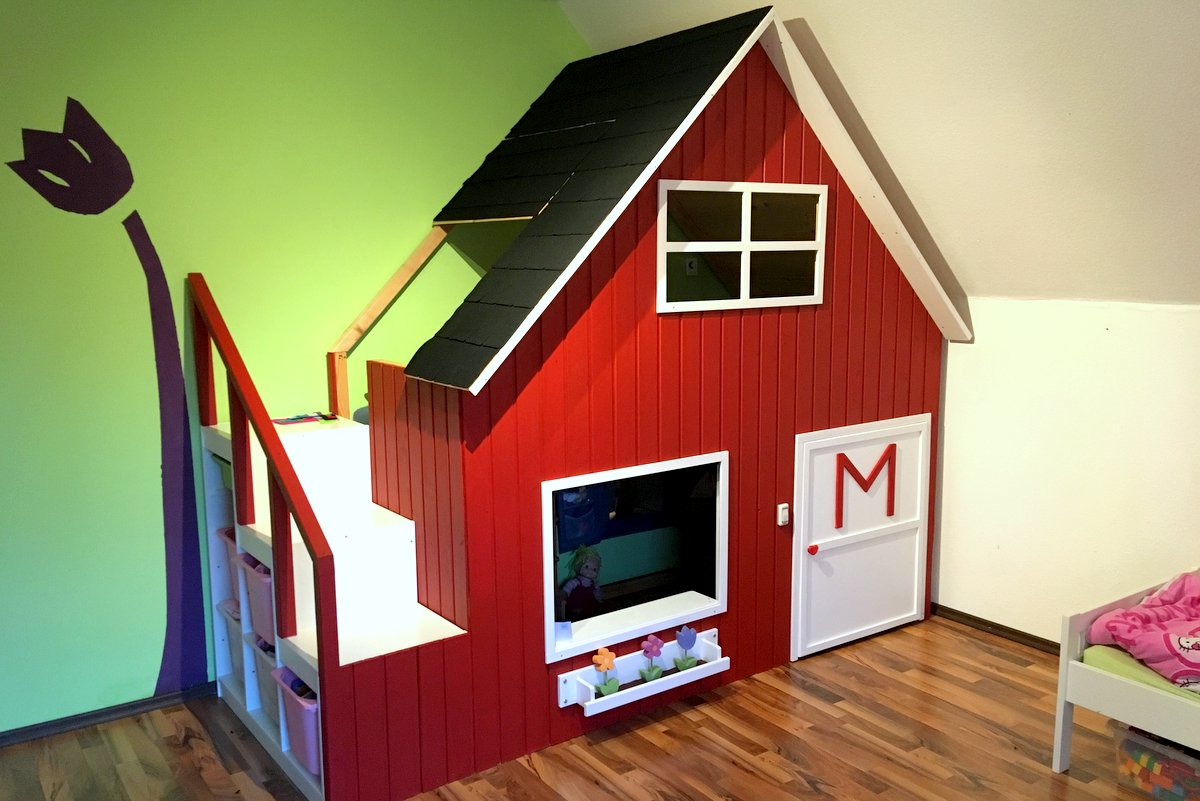 This is our DIY playhouse for kids.
In this blog post, I'd like to introduce our DIY playhouse for kids. It's a classic Ikea hack where you combine or rearrange original products with other materials. Explore its features on two floors – and don't miss the special story I created on Instagram. Please leave your questions and messages in the comments below.
Update 04/2019: We've painted the playhouse with this stylish red Falun  color so it looks like a classic Scandinavian house.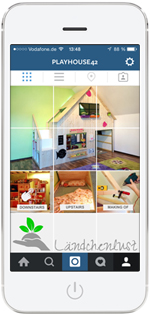 Playhouse42 on Instagram:
Don't miss our Instagram-like-a-website-story! Just search for "Playhouse42" profile on your Instagram app.
1. Sleeping upstairs
First of all let me tell you that the basic element of our playhouse is a Kura bed from Ikea. The reclining area of the bed is 200 x 90 centimeters which means that most single-bed mattrasses should fit here. I used a Trofast storage combination and fixed it to the left side of the bed. So the kids have a comfortable way up and down – especially by night when it's dark in the room.
How do you like the gabled roof? I'm not an architect so I am proud to present a very stable construction which I like pretty much!  The height of our playhouse is now 230 centimeters and it fits right under the room's ceiling.
Photo gallery: All upstairs features (German subtitles only, sorry for that.)
2. Playing downstairs
Downstairs, you'll find an area to play, read oder just hang around. As you can see, our kids love to play supermarket so I fixed a sign to swing open, a small chalkboard to write special offers on and a green blind they can lift up in the morning. Inside, there's a switch to turn on an LED strip that gives a warm and cosy light. Time to play, folks!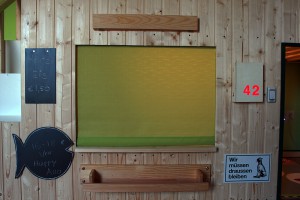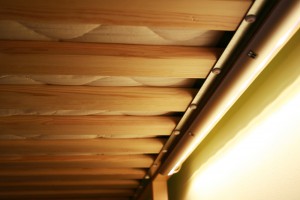 A few years ago, our daughters got an own shop for christmas and played with it every day. For weeks! Then, from one day to another, their supermarket got out of fashion and I had to storage it somewhere… But now, it's time for a comeback! I rearranged the elements of the shop and adapted the height a little bit – and here we go. I even recovered some of the old products (e.g. wooden fruits, paper packages), so the kids can sell or buy them in the shop!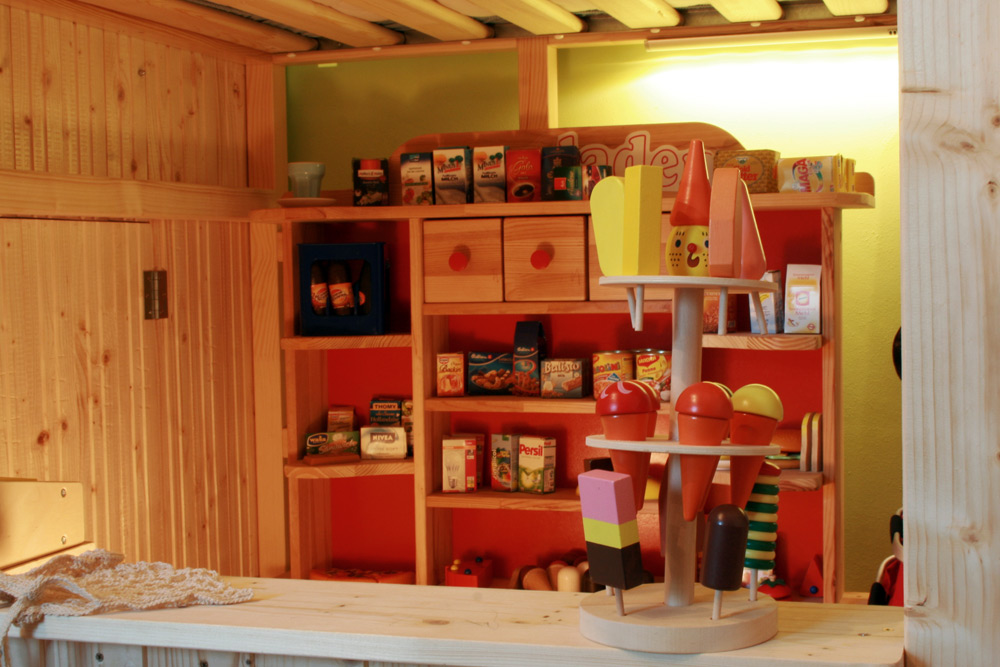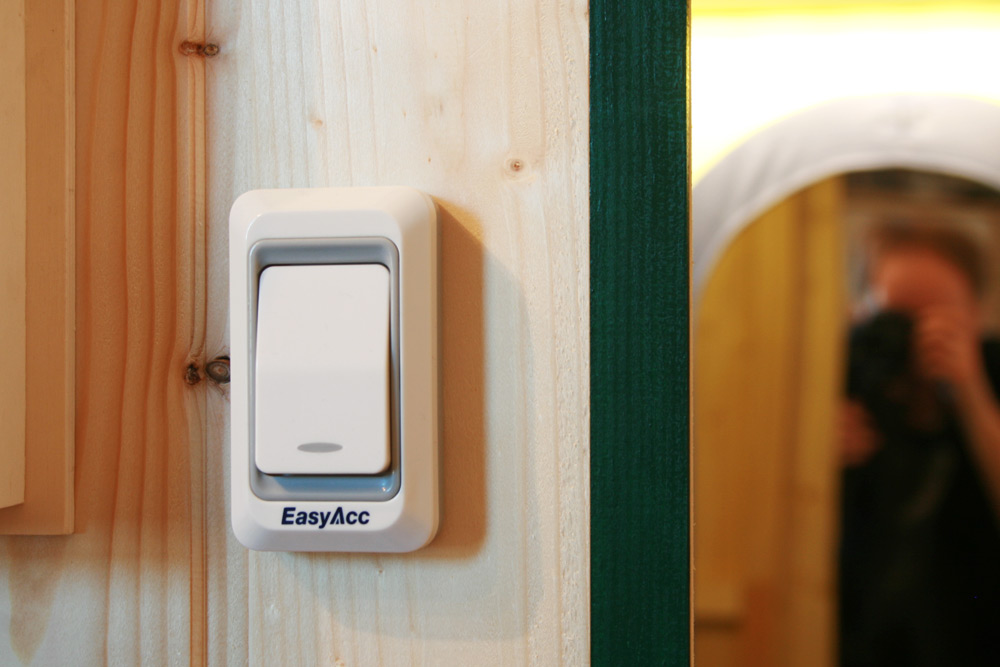 Our children love to play "Living in a house". They ring the door bell (which actually rings or plays a melody), write letters to each other and put them into the letterbox. Sometimes, they even play hotel and let a room or bed in the loft.
Downstairs, I also fixed an old iPad mount so that the kids are able to watch some cartoons.
3. The Making of
Photo gallery: German subtitles only, sorry again.
4. Special Feature: A secret door
Well, every house needs a secret door! And yes, The playhouse has got one: Just press carefully against the left wall inside – and an almost invisible door springs open. Now, the kids are able to escape through the Trofast shelf after they pushed the boxes out of the fittings.
5. Bill of materials
Products, materials and tools you'll need to craft a playhouse like this: